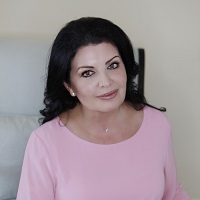 Zayda is a committed supporter of the Sisters of St Joseph of St Augustine, FL originally joining the Mercy Hospital Auxiliary in 1997, as Chairperson of the "A Spring Bouquet" Fashion Show and luncheon. She served as Auxiliary President for l998-l999 remaining active on the Board and serving again as President of the organization's final year during 2010-2011.
The Florida International University Marketing major, started her career as a media buyer for Beber Silverstein Advertising, later on joining Tinsley Advertising where she was Vice-President of Media Services.
Zayda began her volunteer work during the mid-80′s when she joined Business Volunteers for the Arts. She has been involved in several organizations in the community, including Regis House, Liga Contra El Cancer, The American Cancer Society where she was selected for one The Most Dynamic Women Award in l999, The Cuban Women's Club "Floridana" Award in 2000. She was a member of the Gulliver Schools Parent's Association, serving on the host committee for the school's 50th Anniversary Gala.
She is married to Jose C. Hernandez, President of Refricenter, Inc. and is the mother of Christian and Alexandra.