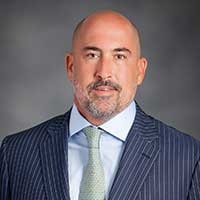 José is Co-Founder and Managing Partner of My Home Doctor and is widely recognized as a visionary health care leader who's placed Physician House Calls back at the forefront of medical care throughout Florida. Prior to starting My Home Doctor, he served as a Vice President for a specialty pharmacy. He is a graduate of Florida International University and Belen Jesuit Preparatory School.
He's served as Pillar Member of the Miami Beach Chamber of Commerce; Greater Miami and the Beaches Hotel Association, and Greater Miami Conventions and Visitors Bureau. He's a member of the American Academy of Home Care Physicians, American College of Healthcare Executives, and is a Young Founder Board Member at Mt. Sinai Hospital.
José lives in Coral Gables with his wife Ana and their twins Mia Lucia and Luca Manuel. He and his wife have been honored as one South Florida's most outstanding couples for their success in business, leadership in the community, and unparalleled support of charitable causes.
As a Board Member of Mercy Foundation José served as co-chair of St. John Bosco Clinic Health Fair; co-chaired the Daddy and Me Fashion Show, Interactive Dinners, and yearly Thanksgiving Food and Christmas Toy Drives. Jose continues to support St. John Bosco Clinic through his service on the SSJ Health Foundation Board of Directors.