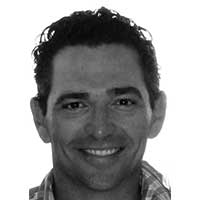 From his co-founding of the groundbreaking magazine generation ñ in the 1990s to his visionary efforts in the then burgeoning fields of mobile and social marketing technology, Delio Nuñez-Menocal has been considered by many in his field to be a maverick and one of the top marketing and media executives in the country.
Delio is currently the CEO of Mobile Edge Media Group, a digital solutions provider, offering sophisticated platforms for social, mobile marketing, advertising and mobile enterprise solutions.
Prior to starting Mobile Edge Media Group, he served as Business Development Director at Knight Ridder where he was in charge of developing media strategies for national clients. As the COO/co-founder of Generation ñ, Delio oversaw the multimedia expansion of the brand into radio, television, syndicated newsprint and online content. He brokered the groundbreaking partnership between Citysearch/Ticketmaster to create America's first online Latino city guide.
Mr. Nunez-Menocal lives in South Miami with his wife, Arlette and their two daughters Cecilia and Carolina. He is an experienced cook, avid boater and martial artist.