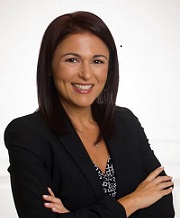 Rebecca Castillo joined First Horizon as Vice President and Private Client Relationship Manager for the Miami Market. She brings 16 years of banking experience, specializing in concierge private banking, commercial and consumer lending, and wealth management to high net worth individuals, business owners, entrepreneurs, professional service providers and their practices, as well as wealthy families.
Prior to joining First Horizon, Rebecca was a Vice President and Private Banking Relationship Manager for IBERIABANK, which she joined through the Gibraltar Private Bank & Trust (GPBT) acquisition. As a Private Banking Relationship Manager, Rebecca managed a $180,000,000+ portfolio of consumer and business loans, as well as deposits and Wealth Management. She was also responsible for achieving growth and revenue for the Bank. While at GPBT, Rebecca's role as a Private Banking Relationship Manager included the same responsibilities as those at IBERIABANK.
Previously, Rebecca was a Business Banking Relationship Manager at Regions Bank and was responsible for managing a $30,000,000 book of business loans and deposits, along with acquiring new clients with an annual sales size of up to $20,000,000.
Her initial career started at Wachovia Bank, where she began as a commercial banking sales assistant to the top producer of the entire company.
Rebecca is a graduate of the College of Business Administration at Florida International University where she earned her Bachelor of Business Administration.
Rebecca has been involved with the Real Estate Task Force of the Greater Miami Chamber of Commerce, South Florida Hospital and Healthcare Association (SFHHA), and Medical Group Management Association (MGMA). She currently serves on the Board of the SSJ Health Foundation, a charitable organization providing financial support for St. John Bosco Clinic, a free clinic serving uninsured and underserved children and adults in Miami-Dade County.