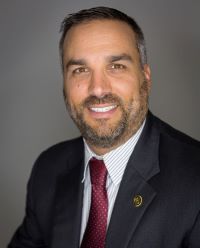 Alexander Castellanos
Treasurer
Alexander Castellanos has been in the mortgage industry since 1999 and is currently a Vice President and Mortgage Branch Manager with Iberia Bank.
Alexander is an alumnus of Belen Jesuit Preparatory School and The University of Florida, where he received a Bachelor of Science in Business Administration with a triple major in Finance, Insurance, & Real Estate.
He firmly believes in helping build the mortgage industry by volunteering his time. Currently, Alex is an active member of The Mortgage Bankers Association of Florida (MBAF), where he has held various board positions leading to his serving as President (2013 -2014). He also serves on the board at the SSJ Health Foundation because of his strong belief in the St. John Bosco Clinic's mission to bring peace and kindness to the residents of Dade county by providing quality healthcare to the less fortunate.
At the MBAF annual convention in 2016 he was awarded the Brown L. Whatley Award, which recognizes his contributions to the association and the mortgage banking industry in the state of Florida.